24V 9W OSRAM edge light led bar 15*45* beaming angle with 5 year warranty
MOQ :1000 piece
Lead Time :10 Days
Product details
Supply Ability
Supply Ability:1000000 piecesWarranty(Year):5 Year
Packaging & Delivery
Length:37 cmWidth:24 cm
Height:27 cmLogistics Weight:5.000 kg/piece
Packaging:50 piece
Product Specifications
Brand name:OSRAM
LED Quantity:3pcs
IP Rating:IP65
Emitting Color:White
Input Voltage:24v
Base:Full Range
Base Material:Aluminum
Material:Aluminium
Diffuser:Borosilicate Glass
Color Temp(K):3000-5000/ >5000
Usage:Garden/Decoration/Street/Room /Other
Power Source:DC
Product Description
Our best-selling LED Rigid Bar, with CE, RoHS & UL certificate. 5 years warranty.
Application:
Best for 12-1000px depth double-sided light box or 10-500px depth single-sided light box at airports,metros, banks, buildings and shopping malls, etc.
Parameter: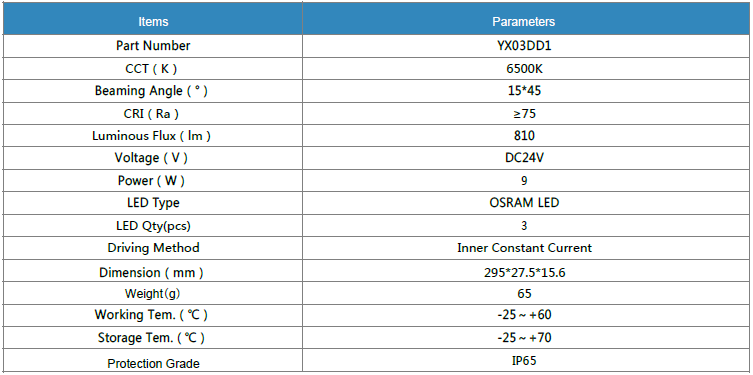 Dimension:

Packing:

Instructions:
When installing the product, please switch off the power
Please use constant voltage power supply and leave 20% or more balance of its total power Make isolation and corrosion prevention on all wiring points and wire ends
The maximum series connection quantity for ZF03BB1 is 15 pcs , please do not exceed this number The products can be installed by screws, rivets as well as silicon gel, while please do not use Acidic or alkaline adhesive
The high power LEDs generates more heat, so please install the products on the surface of material with good heat dissipation such as metallic or aluminium panel
For single side light box, in order to get better and even lighting effect, you can put the products more closer to unilluminated back and attach white reflective poly sheet or sheet with similar function on the inner back
Declaration:
Warranty: 5 years.
In order to ensure the safety, the broken wires needs to be replaced by the manufacturer or the service agent, or by the staff with the similar qualification.
The given data in the specification was based on the laboratory testing, there may be discrepancy found in the actual products.
The given drawings in the specification are only for reference, there may be discrepancy found in the actual products.
The products are subject to change without prior notification.
Certs:
You May Like