LED module SMD3030LED with 170 beaming angle for Light box 5pcs ㎡
MOQ :1000 piece
Lead Time :10 Days
Product details
Supply Ability
Supply Ability:500000 piecesWarranty(Year):5 Year
Packaging & Delivery
Length:9.4 cmWidth:9.4 cm
Height:0.78 cm
Packaging:144 piece
Product Specifications
Brand name:Epistar
LED Quantity:Other
IP Rating:IP65
Emitting Color:White
Input Voltage:12v
Base:Full Range
Base Material:Aluminum
Material:ABS
Diffuser:Borosilicate Glass
Color Temp(K):3000-5000/ >5000/Other
Usage:Garden/Street/Room /Other
Power Source:DC
Product Description
9SMD3030 backlit lens led module,big angle 170 degree,only 5pcs/㎡,650LM with 7W,5 years warranty,best solution for 10-20cm depth signs at airport,metros and shopping mall.
ZF09 QB1 LED module Features
Adopting SMD3030, which is high lighting efficiency. 7W/PC, 650lm. The dimension is: 94*94*7.8mm.

9 pcs/string.

Only 5pcs per square meter.

Beam angle: 170°beaming angle. Anti-dusting, anti-moisture, waterproof, anti-shock.

CE, ROHS and UL certified.

5-year warranty.
Application
Best for 10-20cm depth single-sided light box at airports,metros, banks, buildings and shopping malls, etc.

Parameters: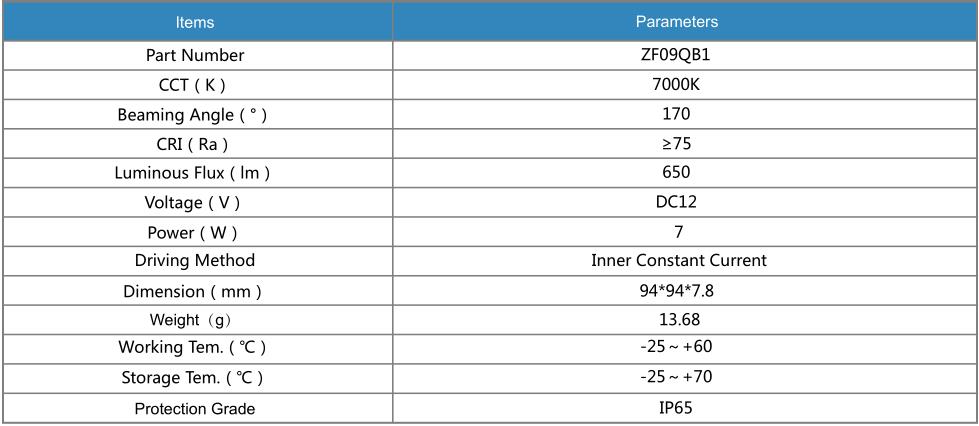 Warnings:
Disassembling or modifying the product is forbidden.
Installation with power on is forbidden.
Any organic solvent chemical is forbidden.
Acidic or alkaline adhesive is forbidden when install, neutral glass cement could be used for installation purpose,
make it drying in open environment for four hours.
Isolation and corrosion prevention on all wiring points and wire ends.
Make sure the power wire is thick enough and ensure the voltage and connections are connected correctly before
power on.
This product should be used in a sign, do not expose it in opening site.
Installation, maintaining should be done by professional staff.
9 pcs in a serial connection maximum.
The power wire between power supply and module should be less than two meters to keep the same brightness
on all parts.
Certs:
You May Like